Chocolate Chip Pumpkin Pecan Bread (Gluten free option)
It's not officially fall until the pumpkin bread is baking, so start preheating and get ready for the house to smell heavenly because we are popping this Chocolate Chip Pumpkin Pecan Bread perfection in the oven, stat!
(This post contains affiliate links. I may make a commission off sales but your price remains the same.)
 Sweet Spices, Chocolate and Crunch…Swoon!
This perfectly textured pumpkin bread has hints of sweet cinnamon and nutmeg, rich dark chocolate and the crunch of salty roasted pecans.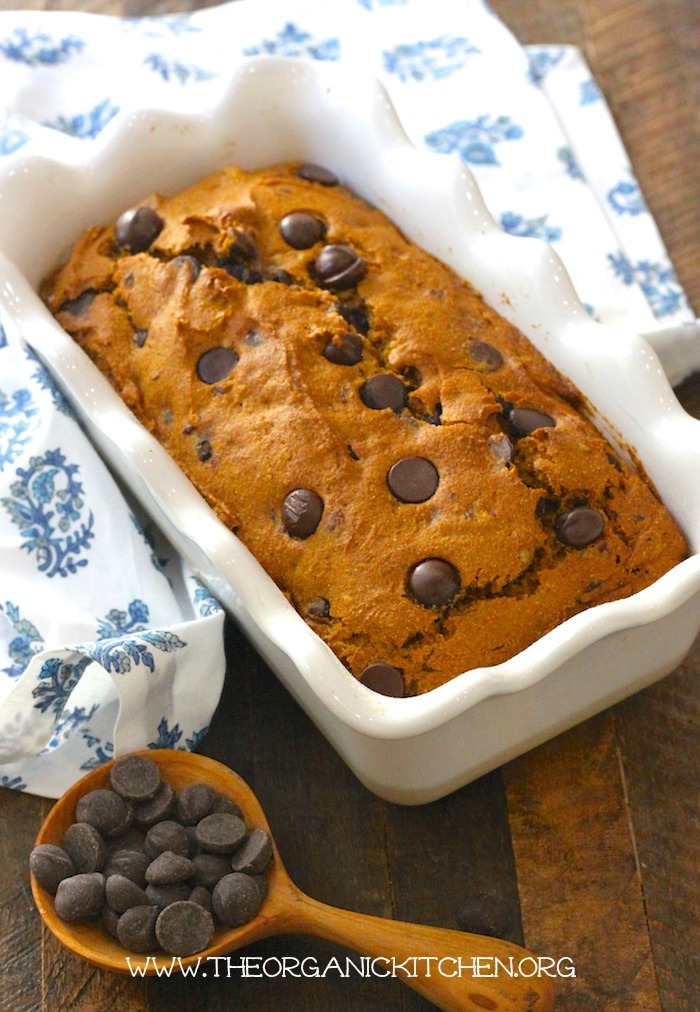 Wanna Make it Gluten Free? No problem!
If gluten free living is your thang, you don't have to sacrifice taste or texture. I use Gluten Free Jovial Pastry Flour, because it's the best for baking and works perfectly in this decadent pumpkin bread. It's also soaked for easy digestion!
Tips and what you need: if you want to make this recipe gluten free I recommend Gluten Free Jovial Pastry Flour. You will need cinnamon, nutmeg, vanilla paste or extract, and two loaf pans.
Chocolate Chip Pumpkin Pecan Bread
Sweet chocolate pumpkin bread with hints of cinnamon, nutmeg and salty pecans
Ingredients
3 cups of your favorite flour, I use Gluten Free Jovial Pastry Flour
2 teaspoons baking powder
1 teaspoon baking soda
1/2 teaspoon salt
1 teaspoon cinnamon
1/4 teaspoon nutmeg
3/4 cup butter, room temp (plus 1 tablespoon for pan prep)
3 cups granulated organic sugar
3 large eggs
1 – 15oz canned pumpkin purée (plain, not pumpkin pie mix)
1 teaspoon vanilla or vanilla paste
1 cup chopped roasted salted pecans
1 cup dark chocolate chips
Instructions
Preheat oven to 325 degrees, place oven rack in center position, use a paper towel to wipe sides and bottom of pans with butter, then dust with flour, set aside
In a medium size bowl, whisk together flour, baking powder, soda, salt, cinnamon and nutmeg. Set aside
In a large bowl mix eggs, sugar, vanilla and pumpkin purée until smooth
Using a spatula, add pecans and chocolate chips and mix well
Separate batter into loaf pans, tap pans on counter firmly and smooth top with spatula
Bake in the oven for 40-45 minutes, until inserted toothpick comes out clean
Allow to cool before slicing, serve
MAY I PLEASE ASK A FAVOR?
We small bloggers need all the help we can get. Subscribing and sharing on social media is very appreciated!
View The Organic Kitchen's Privacy Policy.