Italian Meatballs with Pesto Zucchini Noodles! (Paleo-Whole30-Keto)
Here's a fun little low carb meal that has a zippy taste and doesn't require a big time investment: Italian Meatballs with Pesto Zucchini Noodles!
(This post contains affiliate links. I may make a commission off sales but your price remains the same.)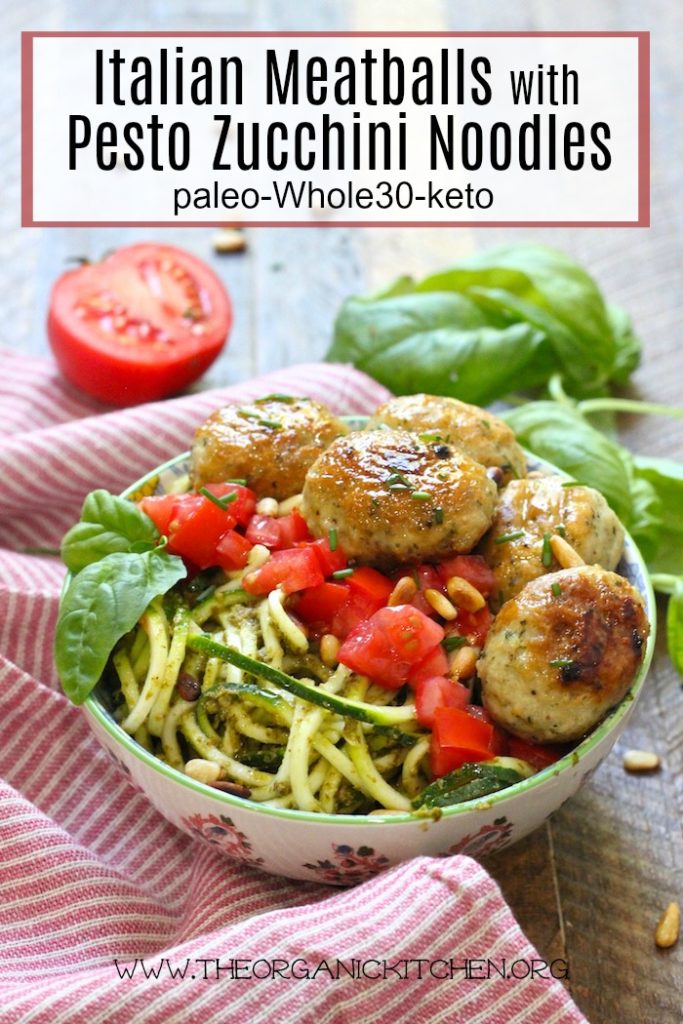 The Meatballs:
A combination of ground beef, ground pork and spices, these meatballs are flavorful and never dry! Made with almond flour instead of breadcrumbs, they are also Paleo, Whole30 and Keto friendly!
"ZOODLES": YOU HAVE CHOICES!
Many stores now carry spiraled veggies right in the produce department. You can go right ahead and use those, they are terrific, but usually a little more expensive than making your own. If your store doesn't carry them, don't fret, They are super easy to make. You can use a hand crank spiralizer, which is fine for zucchini and very budget friendly.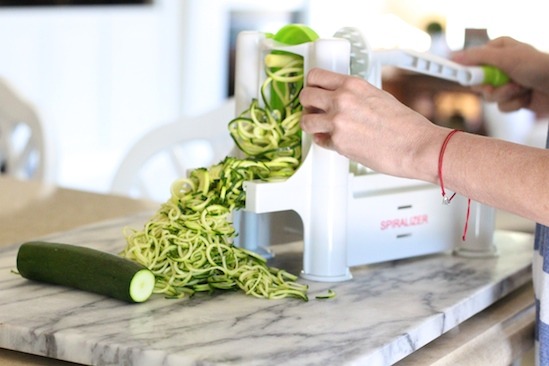 The hand crank versions work great for soft veggies like zucchini and white potatoes but to be honest, if you plan on spiralizing harder vegetables, like carrots or sweet potatoes, you may want to invest in the attachment for the Kitchen Aid mixer. It's a dream tool and handles those harder vegetables like a champ. You can just walk away and let the machine do the work!
The Pesto:
This tasty basil pesto is made in in literally two minutes, no kidding! You can find my Dairy Free Version here OR if you would rather have my traditional version made with parmesan, link here.
Put It All Together and Voila!
A delicious, healthy, low carb meal made in under 30 minutes!
Tips and What You Need: If you can't find pre-spiraled zucchini you will need to make your own using either a hand crank spiralizer or the attachment for the Kitchen Aid mixer.You can find my Dairy Free Pesto here OR if you would rather have my traditional version made with parmesan, link here.
Italian Meatballs with Pesto Zucchini Noodles!
Yield 4 servings
A 30 minute meal with paleo, Whole 30 and Keto options!
Ingredients
Zucchini
4 medium size zucchini, washed and spiralized (about 8 cups if buying store bought)
1 teaspoon sea salt
2 roma tomatoes, diced
small handful roasted pine nuts (optional for garnish)
Pesto: choose my dairy free version (paleo/Whole30) or my traditional version (keto)
Meatballs:
2 eggs
1/3 cup almond meal (almond flour)
2 teaspoons powdered garlic
2 teaspoons onions powder
1 teaspoon dried oregano
1 teaspoon dried thyme
1/2 teaspoon sea salt
1/2 teaspoon freshly ground black pepper
10 ounces ground beef
10 ounces ground pork
olive oil
Instructions
Spiralize zucchini and place in colander
Sprinkle with two generous pinches of sea salt while tossing, allow to rest. This prevents soggy zoodles.  While zoodles 'rest', you make pesto and meatballs
Make pesto (recipes linked above) and dice tomatoes, set aside
Preheat oven to 350 degrees
In a large bowl, whisk together eggs, spices and almond meal. Add the beef and pork, season generously with salt and pepper, and mix with hands until combined. Using wet hands, form the mixture into 1-inch meatballs (should make about 12)
Place a large oven safe pan on medium heat for 60 seconds. Add 2 tablespoons olive oil and heat until hot but not smoking
Add meatballs cooking for three minutes, then gently turn, cooking for another three minutes on the second side
Place meatballs in oven for 5-6 minutes or until cooked through. While meatballs are in oven cook zucchini noodles
Cook zoodles:
Heat a medium sized pan on high heat
While pan heats, use paper towels to squeeze excess water out of zucchini noodles
Place 1 tablespoon olive oil in pan, add zucchini and cook, tossing for 3-5 minutes
Add pesto to zucchini and toss, use as much as you like
Plate, top with diced tomatoes (and pine nuts if using) and meatballs, serve
Courses dinner
Cuisine Italian
MAY I PLEASE ASK A FAVOR?
We small bloggers need all the help we can get. Subscribing and sharing on social media is very appreciated!
View The Organic Kitchen's Privacy Policy.