Five Minute Creamy Ranch Dressing- Paleo, Keto, Whole 30
Fresh, homemade Creamy Ranch Dressing. It's the best for salads, dipping veggies, and topping burgers. And you know what's even better? When you can make that dreamy dressing in five minutes and make it Paleo, Whole 30 or Keto compliant. Yup I believe I just knocked it out of the ball park!
(This post contains affiliate links. I may make a commission off sales but your price remains the same.)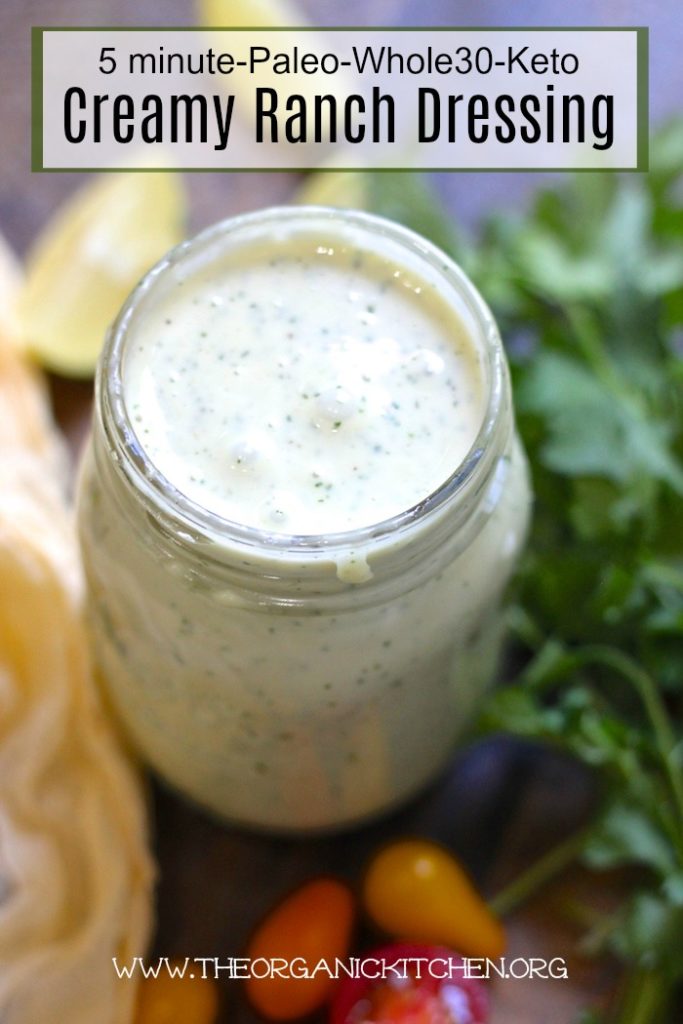 Let's Start at The Beginning…
A great ranch dressing starts with a great mayo. Honestly I think a good quality store bought mayo is fabulous for certain things but I don't love it for Ranch Dressing. In my opinion it's just too 'mayo-y' for lack of a better word.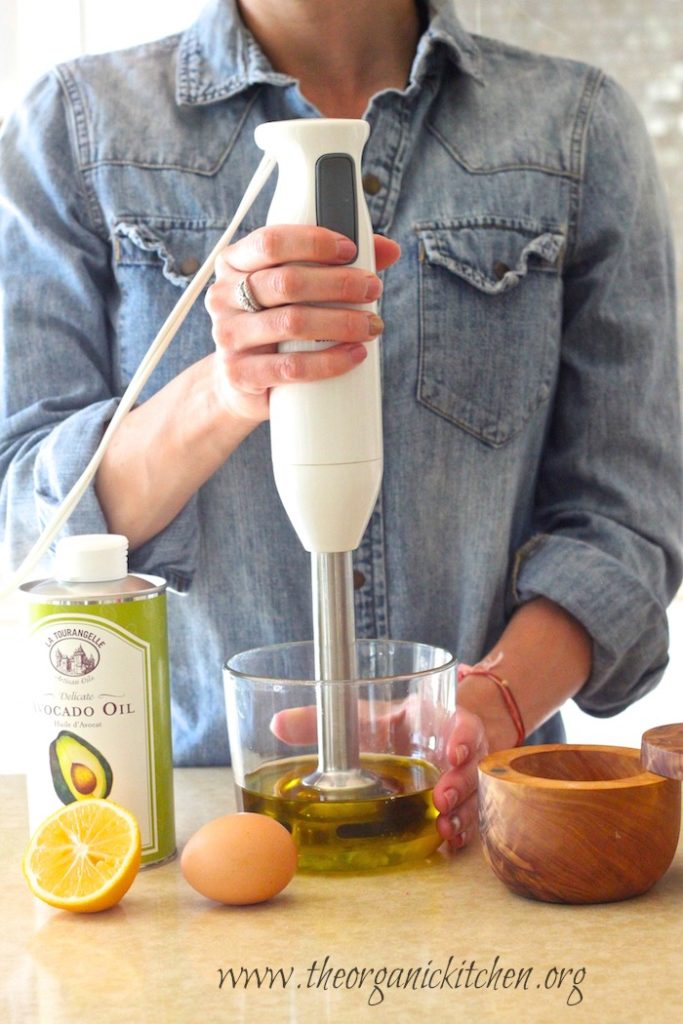 But Don't Panic, Making Mayo is Super easy!
Simply put extra light olive oil (or avocado oil), room temp egg, and a little lemon juice in a narrow glass container or mason jar with a lid wide enough to accommodate an immersion blender (affiliate link).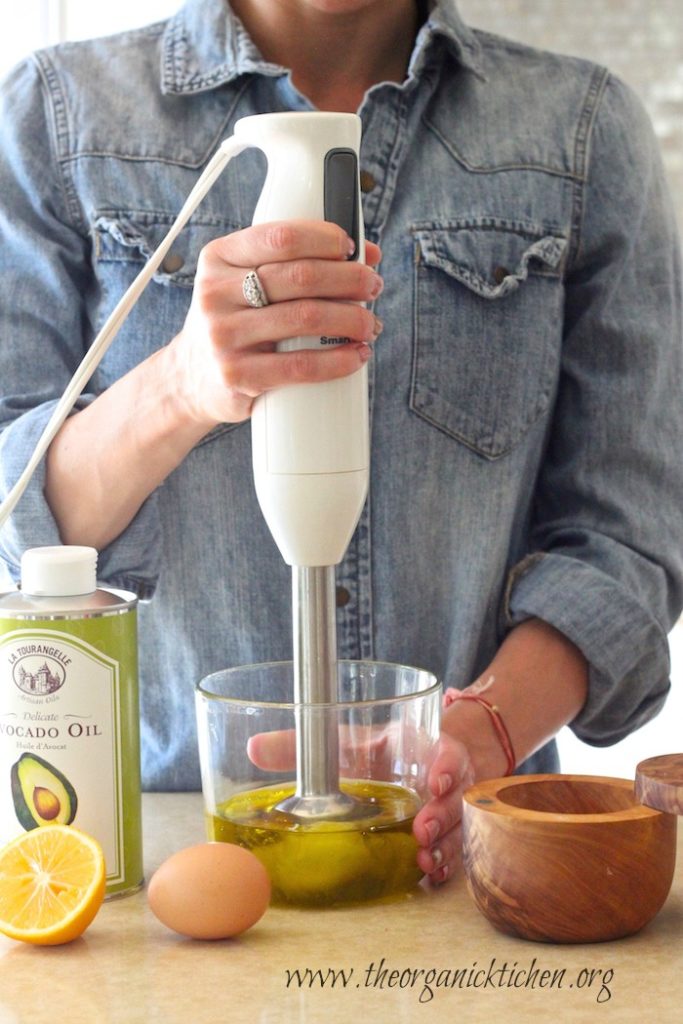 Important tip: Make sure the blender touches the bottom of the jar and stays there until the last few seconds of blending. Within a few seconds you will see the mayo emulsifying.
And, voila! Rich creamy mayo in less than a minute! For a complete Mayo Tutorial <—click!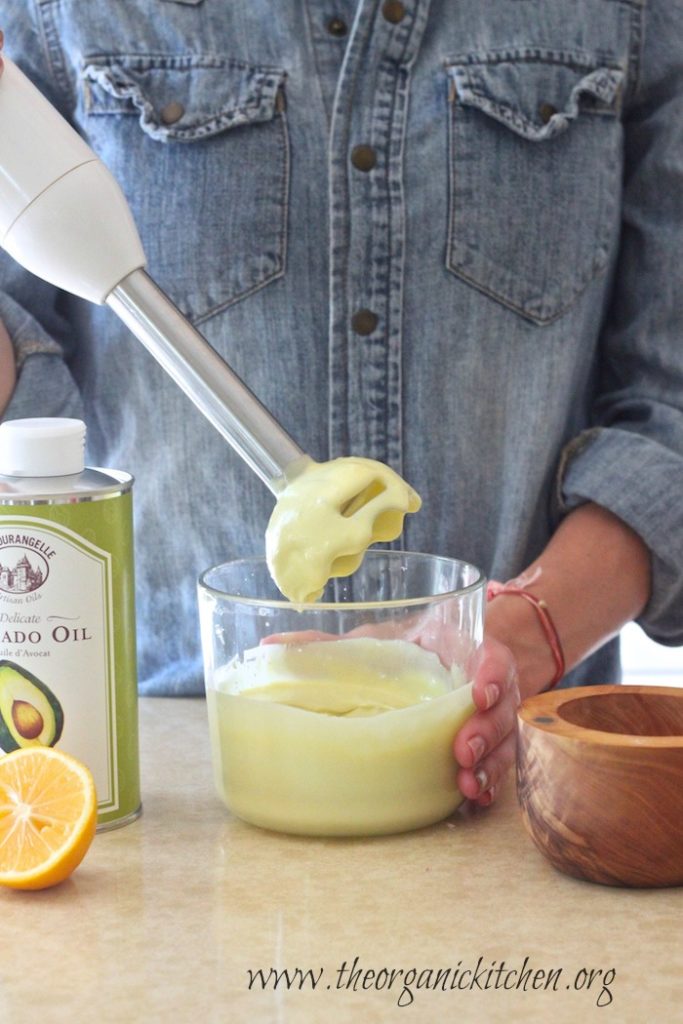 Now How Do We Turn That Mayo Into Ranch?
By adding herbs, spices and either a little buttermilk or if choosing the non dairy option, some blended cashews!
Ways to Use This Dressing!
Dip my Whole 30  Home Fries, toss with the Best Chopped Chicken Salad or drizzle on Chicken Tenders!
Tips and what you need: If making this recipe non dairy, allow time to soak cashews before hand. For making successful mayo it's important that ingredients are room temperature. Some people have success using a regular blender, I have much better success using an immersion blender (affiliate link). You will need a good knife for chopping herbs.
Creamy Ranch Dressing- Paleo, Whole30, Keto
Yield 1 1/2 cups
Fresh, homemade creamy ranch dressing, made in five minutes with Paleo, Whole30 and Keto options. If making this dressing dairy free, allow time to soak cashews.
Ingredients
If making recipe dairy free you will need to allow time to soak cashews to make cashew cream, if not making dairy free skip to next step:
1/2 cup raw cashews
1/2 cup filtered water
Dressing Ingredients:
1 cup extra light olive oil or avocado oil
1-2 room temp eggs, the second is back up (if you forget to leave eggs out, place in bowl of very warm water for at least ten minutes to make room temp)
1 teaspoon fresh lemon juice
1/3 cup buttermilk (shake well)  or use 1/2 cup cashew cream if making non dairy
3/4 teaspoon sea salt
1/2 teaspoon freshly ground black pepper
1 1/4 teaspoon garlic powder (or more if you like more!)
1 1/4 teaspoon onion powder (or more if you like more!)
2 Tablespoons cilantro, chopped
2 Tablespoon chives, chopped
Instructions
If Using Cashew Cream to Make Recipe Non Dairy:
Bring 1 cup water to boil, turn off heat and pour 1/2 cup cashews into hot water. Soak for 3 hours or overnight. Strain and rinse. Place into blender with a half cup of filtered water and blend until smooth. This is cashew cream. Store in fridge until ready to use (expires in 4 days)
Make the Dressing:
Place a room temp egg (have a second egg as back up) and olive in a narrow jar that is wide enough to accommodate an immersion blender. The egg must be room temp. If you forget to take the egg out of the fridge in time, you can place it in a bowl of hot water for 10 minutes to bring it to room temp.
Add lemon juice 
Place an immersion blender into jar with the blender touching the bottom. Turn on immersion blender keeping it at the bottom of the dish. In about 30 seconds or less you will have mayonnaise, move blender up and down a few times. Stop blending. If mayo doesn't set up, use that second egg. Add it to the jar and mix again, it almost always saves the day.
Add chopped herbs, spices and cashew cream or buttermilk and give one more quick blend to incorporate herbs and spices! Taste and make any additions needed. Ta-da!
Courses condiment
MAY I PLEASE ASK A FAVOR?
We small bloggers need all the help we can get. Subscribing and sharing on social media is very appreciated!
View The Organic Kitchen's Privacy Policy.