Summer Slow Cooker Recipe~ Lemon Chicken with Rosemary
I love crock pot meals any time of year. In colder seasons slow cookers make the most comforting savory meals, and in warmer months they create lovely lighter meals without heating up the kitchen, plus they help with time management! And who doesn't love prepping early and coming home to a beautiful, warm meal and a house that smells divine? No one, that's who. When it comes to amazing crock pot meals, this slow Cooker Lemon Chicken with Rosemary ranks way up high on our list of family favorites
(This post contains affiliate links. I may make a commission off sales but your price remains the same.)
Making this Meal:
I made this meal with my Cuisinart Multicooker. It browns/sautés, steams and roasts! So instead of having to brown the chicken and sauté the veggies in a separate pan and transfer to the crock pot, I browned the chicken, sautéed the veggies, and slow cooked it all in the crock pot. Only one dish to clean! That said, if you have a regular crock pot you can certainly brown the chicken and onions in a pan and transfer to the slow cooker.
Only Three Steps: Dredge, Brown, Cook!
I followed one of the recipes in the  Cuisinart Multicooker cookbook…and by 'follow' I mean I changed it…because that's how I roll. I added carrots and instead of using all thigh meat I added one chicken breast because my husband is a breast man (yep, I said that). I spent a little time prepping in the morning and six hours later I had a healthy dinner!
Make This Recipe Gluten or Grain Free:
To keep this recipe gluten free, simply dredge your chicken in your favorite gluten free flour, I recommend Jovial Gluten Free Pastry Flour. To make this recipe Paleo/Whole30/grain free, I use cassava flour. No matter which you choose, this meal will be gorgeous, light, lemony and fall off the bone tender!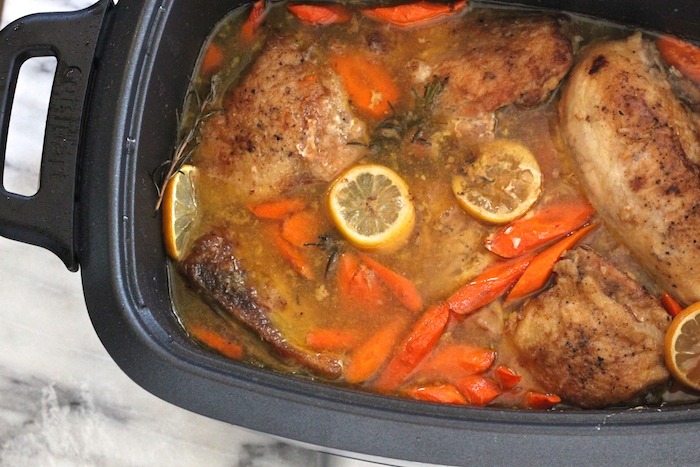 You will need a  Cuisinart Multicooker  (or regular crock pan and a good quality pan, preferably cast iron for good browning) sea salt, freshly turned pepper and chicken broth (<—my recipe) To make this recipe gluten free I recoemmend Jovial Gluten Free Pastry Flour. To make this recipe Paleo/Whole30/grain free, I use cassava flour or almond meal.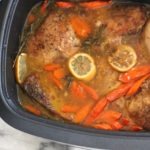 I adapted this recipe from the Cuisinart Multi Cooker Cookbook. If you are using a regular slow cooker you will need to brown the chicken and sauté the onions and garlic in a separate pan. Instructions for both included below.
Course:

Main Course
Cuisine:

American
Keyword:

easy dinner recipe, slow cooker recipe, summer recipe
Author: Linda Spiker
1




T




olive oil, butter, ghee or coconut oil

4




pounds




bone in skin on chicken thighs (I always throw in a breast, you can even use a whole cut up chicken)

sea salt

freshly ground black pepper

1/2




cup




of your favorite flour (Gluten free use GF flour, grain free peeps use garbanzo bean or cassava flour)

3




large yellow onions, peeled, halved and thinly sliced

8




carrots, thinly sliced (1/8″ thick)

6




cloves




garlic, peeled and roughly chopped

3




springs fresh rosemary

1/2




cup




fresh lemon juice

3/4




cup




chicken broth

1




T




lemon zest

1




lemon thinly sliced
Trim chicken of extra fat, sprinkle generously with salt and pepper and dredge in your choice of flour, set aside.

Slice onions, carrots (carrots should be thin or they won't cook through, about 1/8″) chop garlic, zest lemons, then squeeze lemon juice, set aside

Put butter, ghee, coconut oil or olive oil in Multicooker and set to brown/sauté at 400 degrees (or place in a cast iron pan on medium high heat)

Once the pan and fat are hot, add half the chicken skin side down and brown six minutes per side. Remove and repeat with second batch of chicken. Set all chicken on a plate.

Add garlic and onions to crock pot (or pan) and sauté until softened and slightly browned (about 8 minutes)

Add rosemary, a pinch of sea salt and a few turns of pepper.

Add lemon juice, scraping brown bits from pan with wooden spoon or silicone spatula. Let juice come to a boil and reduce by half (about 2 minutes)

Add broth and lemon zest, stir. (If using a traditional crock pot add all to veggies to crock pot now)

Add sliced carrots, and nestle browned chicken on top, then lemon slices. Place lid on multicooker and set to slow cook on low for 6 hours.

Serving suggestions: I love it as is but you can serve it with salad, steamed broccoli or over rice, barley, quinoa or couscous.
I felt like fairies came in and cooked for me while I went about my busy day! I hope you will try using your slow cooker this summer. It really does make life easier and more tasty!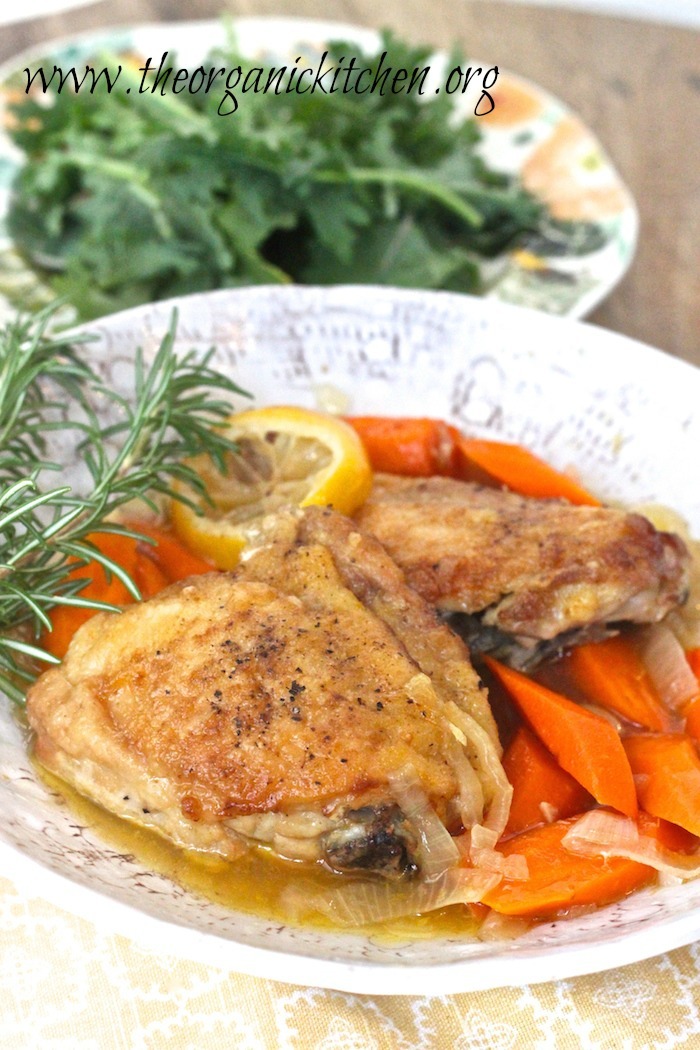 MAY I PLEASE ASK A FAVOR?